---
---
---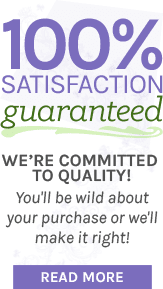 ---
| | |
| --- | --- |
| | |
For over 40 years, we have offered our exclusive, hand-packed mixtures and premium wildflower seed products to hundreds of thousands of gardeners across the country. Our seed comes from within the U.S. and is distributed throughout the country from multiple warehouses. We use only 100 percent pure seed, never any fillers in our wildflower mixes, species and combos. Our Wildflower Seeds are open-pollinated, non-GMO & Chemical free! You can count on our germination and purity rates to be some of the highest, far exceeding industry standards. Vermont Wildflower Farm is a hands-on company. We are a trusted source for gardening enthusiasts across the U.S. and Canada. Let us pass on our know-how and expertise to you. Join your fellow gardeners in the joy and beauty of wildflower gardening with our premium products, growing guides and resources.


Vermont Wildflower Farm wants to help you get the garden you've al...

READ MORE

We carry a very large selection of individual wildflower species...

READ MORE

The species in this section are usually very difficult to find...

READ MORE

On this page you will find native mixes and native species. These...

READ MORE

We carry exclusively designed gift packets for those clients who a...

READ MORE

We do custom mixes on amounts as low as 1lb., custom packets and l...

READ MORE
"We're Dedicated to Your Success"

Quality Products and Expert Advice
We've been helping people create beautiful wildflower gardens and meadows for over 40 years. We are renowned for our quality wildflower seed products and our expert advice. From the small home garden to a wildflower meadow or field, we can assist you every step of the way. It's simple, easy and we are here to help! Join the trend and let us help you create a wildflower area that's not only easy and beautiful, but can be beneficial to you, nature's creatures and the environment! Our wildflower seed and wildflower mixes are always 100% pure wildflower seed, no fillers or grasses!



LANDSCAPE PROFESSIONALS & CONTRACTORS
Have Fun with Wildflowers & Learn Some Cool Stuff! -
Fun Facts About What Beneficial Creatures Will Be Attracted to Your Garden!
No Space? Try Container Gardening!
Using Wildflower Seeds for Your Wedding!
See What Our Customers Are Doing!