---
---
---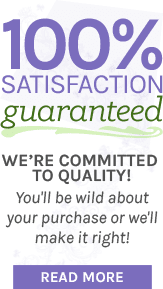 | | |
| --- | --- |
| | |
Fresh, top quality, tested seed, bulb & plant products are what we sell, along with lots of other goodies. All of our wildflower seed products are 100% PURE SEED of the highest quality and germination, no fillers, grass, inert matter or weed seed. Our seeds are also GMO-FREE, Open-Pollinated and Chemical Free!
Our Seed Guarantee:
Fresh, top quality tested seed is all we sell. If for any reason your Vermont Wildflower Farm seed does not grow, you
must
contact us by e-mail to discuss the situation so we can help determine what may have gone wrong. Usually, it is a simple fix. In most cases, we will offer a replacement, store credit or refund. Shipping charges are non-refundable. We cannot guarantee establishment of seed due to various factors over which we have no control. For example, we cannot be responsible for weather, improper preparation including weed growth, soil or other circumstances out of our control. We cannot be expected to replace seed due to premature or late plantings, neglect, drought and other natural conditions. It is mutually agreed that in no case shall our liability surpass the purchase price of the seed. We offer a 100% guarantee. If we approve a seed return for any reason it must be in the original bag/package and be unopened. In other words, it must be returned in resellable "as-new" condition with the original shipping materials. Any discrepancies, damages, or uncleanliness could result in a delay or forfeiture of your store credit or refund. All authorized returns must be received within two weeks of authorization. All return shipping expenses will be incurred by you. If you decide to return your order if approved or you refuse an order without seeking a return authorization after it has been shipped, you will be charged a 20% restocking fee and your shipping charges will not be refunded. Unused seed will not be considered for an authorization to return after 30 days from the date of your order. Any claims for non-receipt must also be within 15 days from Proof of Delivery and/or your shipping notification e-mail.
Note: Custom Orders such as custom mixes or custom quantities are final sales and are non-returnable, non-refundable and must be pre-paid. This is also applicable for Regional Mixes, Specialized Mixes, and/or Grass Mixes over $200.00 as they are mixed after an order is placed.
If you have any other questions, please contact customer service at support@vermontwildflowerfarm.com
NOTE: In a nature-based business such as ours, there may be crops that are part of our mixes that are not available or low in quantity in any given year. While the formula may change slightly to a mix, the beauty and function of the mix will not.
Bulb & Live Plant/Bareroot Ordering Guide & Return Policy
Your online order for bulbs/bareroots/perennials etc. will be charged to your credit card including shipping charges (if any) at the time of placing the order (advance sale) and the bulbs and/or perennials will ship according to the shipping schedule on their respective product section pages. This is standard practice in the mail-order bulb/plant business. It not only allows us to accurately project inventory but allows us to offer you huge discounts for pre-ordering. We fully guarantee all flower bulbs and perennial plants/bareroots. Bulbs & live plant products cannot be returned. If there is a problem with your order, please contact us within 3 days of receipt of your order. If your plant or bulb fails to grow, we 100% guarantee them and will replace or credit if contacted within 1 year of purchase. Note: Custom Orders for bulbs & plants or custom quantities are final sales and are non-returnable, non-refundable and must be pre-paid. If you have any other questions, please contact customer service at support@vermontwildflowerfarm.com
NOTE:
Understandably we cannot be responsible for various factors over which we have no control such as weather, improper preparation, soil, premature or late plantings, neglect, drought and other natural conditions or improper storage of your plants. It is mutually agreed that in no case shall our liability surpass the purchase price of the product. Additionally, any order that contains live or perishable items such as bulbs or plant items that had a wrong/insufficient address provided by you at the time of order and your package cannot be delivered for any reason including packages that are forwarded, delayed pick-up or packages returned to us as 'undeliverable', no refunds will be issued. We may issue a replacement order if inventory allows, however, a flat rate shipping charge will be applied to the replacement order if the result is a delivery issue due to any of the above-mentioned delivery circumstances. If you refuse a shipment of bulbs, live plant items or food items without contacting us prior to doing so, you will not be refunded. Any order for live plants or bulbs that you have an issue with, changed your mind about or arrives damaged, you must contact us within 3 business days for a resolution! If your live plant or bulb fails to grow - just contact us within 1 year and we'll either replace it or put a credit on your account! Shipping charges are non-refundable. Live plants and bulbs are non-returnable but if you contact us within the allotted time frames depending on the situation, we are more than happy to work something out - always!
In the plant business there are sometimes crop failures which we cannot predict. If this should happen, we will contact you to see if you wish a substitute or refund as soon as we know.
Seeds provided by us are intended for landscaping purposes only and are not for human consumption, unless otherwise stated on their specific product page. We take no responsibility for seeds used other than as intended.
Refund Policy and Return Policy:
Gifts or gift shop merchandise/garden product items purchased from the Vermont Wildflower Farm may be returned for up to 30 days from the day we ship the item/items for a full refund of the original purchase price, less shipping, handling. All returns must receive prior authorization by phoning or e-mailing us or they will not be accepted for credit/refund. We will provide return instructions at that time along with your authorization #. If your shipment includes an incorrect item or an item that is defective or damaged in shipping, you may return it to us within 30 days from the day we ship, and we will replace it at no cost to you. Please contact us to let us know a damaged/defective item is being returned. Please note that we can make exchanges only for the exact item you ordered; we cannot exchange one product for another. If this is your situation, please call us to discuss. All items returned for a refund/credit will be issued within 10 business days. Payments by credit card will be refunded to the credit card used. All other forms of payment will be issued as a credit on account only. Shipping charges are non-refundable.
When you place an order with us, you are agreeing to our terms and conditions as well as our policies.
SAFE SEED PLEDGE
Our Pledge to You: "Agriculture and seeds provide the basis upon which our lives depend. We must protect this foundation as a safe and genetically stable source for future generations. For the benefit of all farmers, gardeners and consumers who want an alternative.
We pledge that we do not knowingly buy or sell genetically engineered seeds or plants.
The mechanical transfer of genetic material outside of natural reproductive methods and between genera, families or kingdoms, poses great biological risks as well as economic, political, and cultural threats. We feel that genetically engineered varieties have been insufficiently tested prior to public release. More research and testing is necessary to further assess the potential risks of genetically engineered seeds. Further, we wish to support agricultural progress that leads to healthier soils, genetically diverse agricultural ecosystems and ultimately healthy people and communities."
This document was developed by the Council for Responsible Genetics. It represents, in general, the option of many ethical seed companies as they respond to farmers' and gardeners' very real concerns. For more information please contact: The Safe Seed Initiative 5 Upland Road, Suite 3, Cambridge, MA, USA, 02140
PESTICIDES & NEONICOTINOID
When we state most all of our products are 'chemical free' we mean it and this includes Neonicotinoids. What is that you ask? Neonicotinoids are systemic pesticides that will kill the very pollinators you're trying to attract to your wildlife garden!
This systemic pesticide is absorbed into all parts of the plant: leaves, flowers, pollen, and nectar which means that any caterpillar feeding on that plant, any butterfly sipping nectar, or any native bee collecting pollen are often killed simply by visiting plants treated with neonicotinoids.
Neonicotinoids affect the central nervous system of insects resulting in paralysis and death, which is surely not the goal if you are trying to attract them, assist them by planting wildflower seeds or perennial plants! Rest assured, we value the creation around us and all of the pollinators and wildlife that your gardens may bring. Our flower seeds and plant products are free of all detrimental pesticides so you can be confident you are planting GMO-FREE, Open-Pollinated and Chemical free seeds and plants when you buy from us! We strongly suggest that you do not use pesticides in the preparation or maintenance of your gardens. Ask us for alternatives. For more information see below:
All Wildflower Seed Products – No Pesticides or Chemicals Used in Any of the Production Fields nor are seeds ever treated with any type of chemical. Neonicotinoid free.
Plant Plugs and Bare Roots – No Pesticides Used in Production Fields nor are any of our Plant Products Treated with Chemicals After Harvest. Neonicotinoid free.
Flower Bulbs – Most flower bulbs are not treated with chemicals during or after production and are Neonicotinoid free with the exception of Allium Bulbs and most specialty bulbs. This is being phased out for those varieties this year when we will be able to declare all of our flower bulbs free of pesticide treatment.
Grasses – Our Supplier of Grasses Uses an Integrated Pest Management Approach and is well aware of the damage Pesticides/Neonicotinoids can do. There is a very limited use on some grass species production fields of which is presently being phased out. We don't sell those particular species of grasses here at Vermont Wildflower Farm so the grasses we do sell are Neonicotinoid free.
Veggies & Herbs - No Pesticides or Chemicals Used in Any of the Production Fields nor are seeds ever treated with any type of chemical. Neonicotinoid free.
NOTE: Current research from the Scientific Beekeeping points to several possible contributing factors for Colony Collapse Disorder (CCD) including pesticides (particularly those of the neonicotinoid class), infections with mites, malnutrition, various pathogens, genetic factors, immunodeficiency, loss of habitat, stress of cross-country shipment of beehives, winter loss due to cold, changing beekeeping practices, and /or a combination of factors. We encourage you to read articles at scientificbeekeeping.com for a balanced review of these issues. It may be that chemicals are responsible, and it may turn out they are not. In any case, we believe natural is better and we want to keep our bees and other pollinators healthy so here at the Vermont Wildflower Farm we will keep doing everything possible to ensure our products are chemical free.