---
---
---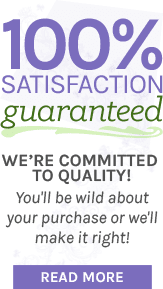 Home :
Shipping Information
| | |
| --- | --- |
| | |
Covid-19 Update
We are very thankful to all of our kind and patient customers during these times. We are shipping on time! We appreciate your understanding and your business! Most orders are now shipping within 2 business days. There may be delays as we await crop arrivals for certain items. Call volume is extremely high, but please feel free to e-mail us. We are fully staffed remotely and can answer your order questions, give advice etc. in a few hours. We appreciate your understanding and your business!
Shipping charges will automatically default within the checkout process. The day you place your order does not count as a shipping day. If you wish Express shipping, please call us Toll Free at 855-846-9453 during our business hours (10am-5pm EST) or e-mail us your shipping address and we will reply with the actual shipping charges. Bulbs & live plant products cannot be shipped outside the U.S.A due to specific country rules and regulations and long transit times. You will also receive an email when your order ships if you provided an e-mail address. (Be sure to check your spam/junk folder depending on your settings as sometimes it goes there rather than your inbox). If you have any questions, you may also contact us at the above referenced telephone number or e-mail address. NOTE: If your order total is $100 or more, we may require signature confirmation. If you do not wish to sign for your package, please indicate 'waive signature confirmation' in the comments field at checkout. We normally ship via USPS but if you wish a different shipping method such as UPS, please indicate in the comments field at checkout or call customer service.
SHIPPING and HANDLING CHARGES:
Standard Shipping (Usually Ships within 2 business days)
Orders of $39 or More! = FREE
Orders of $38.99 or Less! = $6.95 Flat Rate
Expedited Shipping
(Please Contact Customer Service)
All Bulb/plant/bareroot products ship according to the specifics on their individual pages. If your order contains multiple advance sale items along with items ready to ship (like seeds or gifts), and you wish the order split, then an additional shipping charge may apply, but usually we waive these unless you request more than 3 separate shipping times due to the products on your order. If you wish your seed or other items shipped ahead, just let us know in the comments field at checkout! Advance sale items are shipped according to region, starting with warmer areas first in the order they were received. If you select Priority or Expedited shipping, this does not mean your order will be delivered in the allotted time frame specified above. It means your order will be pushed ahead of orders with standard shipping at the appropriate planting time in your area. You may request 'ship now' in the comments field at checkout. Keep in mind, that items do have to have arrived to us from harvest.
We cannot ship any of our products OUTSIDE the US. While we would love to offer our quality products worldwide, individual country regulations, restrictions & transit times make it impossible.