EXTRA Discount! Spend $200 or More,
Take 20% Off! Use Code bulk20 at Checkout
View full details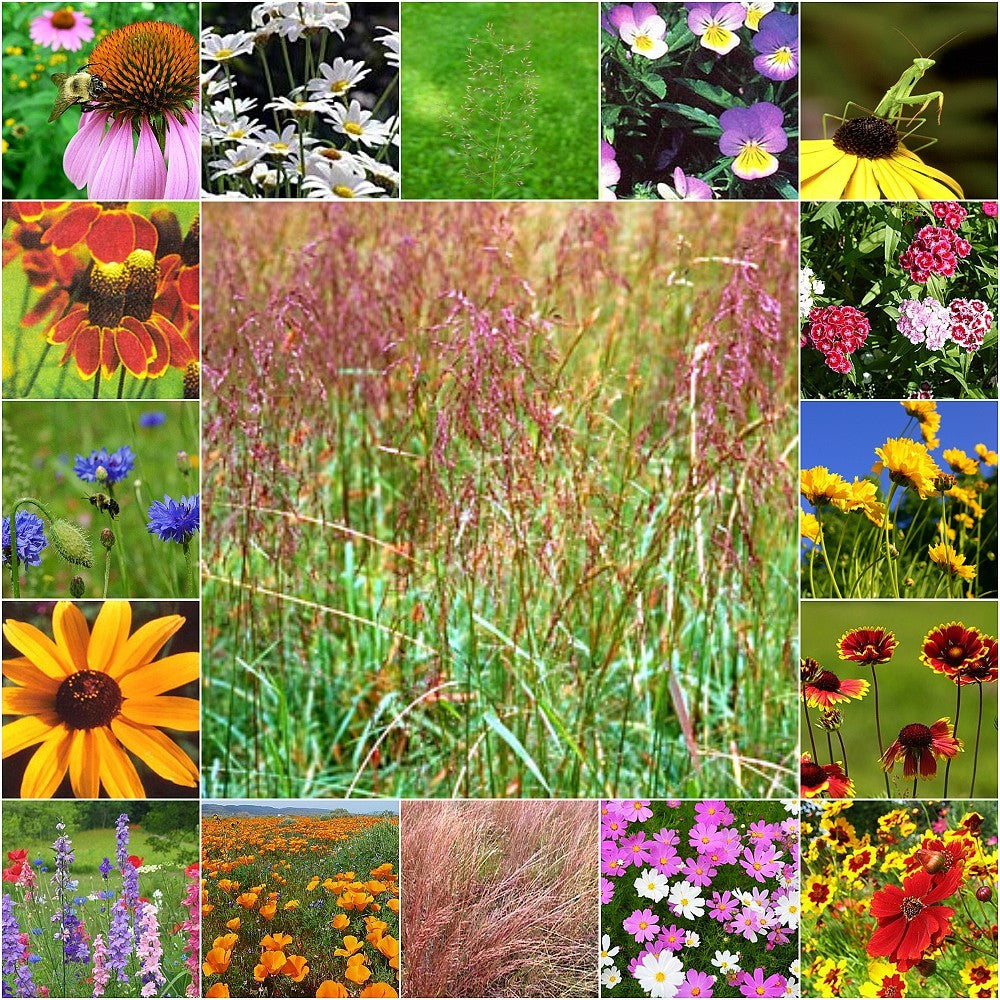 Don't Forget: Free Shipping on All Orders of $39 or More!
Steep Slope Wildflower & Grass Seed Mix This mix is native grasses and wildflower species formulated to tolerate poor soils found on steep slopes. Great for erosion control. Hand packed with 100% pure, fresh wildflower and grass seed (non-GMO & neonicotinoid/chemical free) Mix of Native Grasses with 15 Annual & Perennial Wildflowers with long lasting bloom.
Coverage Rate: 1 lb covers 1,000 - 2,000 sq ft or 30 lbs. per acre.
Zones: 2,3,4,5,6,7,8,9
Light Requirement: Sun to Partial Shade
Shipping: Usually ships in 2 business days. For a guaranteed delivery date, please contact customer service.
Note: We suggest a cover crop of annual wildflowers with this mix while the native grasses and perennial wildflowers mature.
What's in the Mix: (Contains 16 Wildflowers & Grasses)
Botanical Name
Common Name
Life Cycle
Approx. Height & Color
Schizachyrium scoparium
Little Bluestem
Perennial
Grass
Tridens flavus
Purpletop
Perennial
Grass
Agrostis perennans
Autumn Bentgrass
Perennial
Grass
Centaurea cyanus
Blue Cornflower
Annual
2-3 ft. Blue
Cosmos bipinnatus
Wild Cosmos
Annual
3ft. Pink/White
Coreopsis lanceolata
Lance Leaf Coreopsis
Perennial
2-3 ft. Yelloww
Chrysanthemum maximum
Shasta Daisy
Perennial
2-3 ft. White
Dianthus barbatus
Sweet William
Perennial
up to 2ft. Multi
Echinacea purpurea
Purple Coneflower
Perennial
2-3ft. Purple
Eschscholzia californica
Orange Poppy
Tender Perennial
1-2ft. Orange
Gaillardia aristata
Blanket Flower
Perennial
1-3 ft. Red/Yellow
Rudbeckia hirta
Black-eyed Susan
Perennial
2-3 ft. Yellow
Ratibida columnaris
Mexican Hat
Perennial
1-3 ft. Yellow/Red
Cheiranthus allionii
Siberian Wallflower
Biennial
2ft. Orange
Ratibida columnaris
Yellow Coneflower
Perennial
2-3 ft. Yellow
Viola cornuta
Johnny Jump-Up
Perennial
1 ft. Yellow/Purple
Delphinium ajacis
Rocket Larkspur
Annual
2-3 ft. Multi
Coreopsis tinctoria
Plains Coreopsis
Annual
1 -2ft. Yellow/Red
Seeding Rate: 30lbs. per acre or 1lb. per 1,000 sq. ft. SHIPPING and HANDLING CHARGES: Standard Shipping (Usually ships in 2 business days) Orders of $39 or More! = FREE Orders of $38.99 or Less! = $6.95 Flat Rate Expedited Shipping (Please Contact Customer Service)
SEEDING RATES ARE APPROX DEPENDING ON THE DENSITY OF COVERAGE YOU DESIRE.
Steep Slopes and Disturbed Sites
These sites have soils of variable types and conditions.
Site Preparation: Remove existing vegetation. Weeds not addressed before establishment will be difficult to remove later.
Habitat: Consists of various soils usually consisting of exposed clay, sand and rock outcroppings.
Fertility: These sites are generally low in fertility; therefore, checking beforehand is a good idea. If you do have low fertility, you can add topsoil or organic matter (compost) to the area. Be sure to also check your ph and add lime or fertilizer as needed. If this area is a weedy area beforehand, then we do not recommend you fertilize if possible.
Seeding Method: Hand seed, broadcast, hydro-seed, or drill seed. Once the seed has been broadcast, dragging with a light harrow to cover the seed or mulching with straw is a good idea to prevent as much washing out as possible. With adequate temperature and moisture your seed should germinate within 2-3 weeks which will stabilize the area.
General Maintenance - Observation of your area for desired growth vs. weeds is important in the future maintenance. Remove any weeds you see before they go to seed. Most of the competition the first year will be annual weeds if any. On your second-year monitor for perennial weeds and remove as necessary.